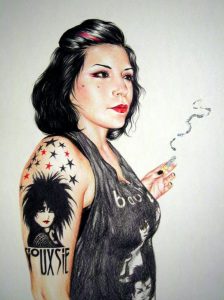 Art of Noise: Art and popular music since 1977

Historian and philosopher Bernard Gendron has compellingly argued that rock music took over the avant-garde in the 1970s, holding "onto its 'pop' moorings while becoming 'art,'" as visual artists like Robert Longo, Barbara Kruger, and Jean-Michel Basquiat started bands, and bands like Devo, Talking Heads, and Kraftwerk treated their music as performance art, blurring the lines between popular music and high art in ways that have profoundly affected contemporary art. This seemingly effortless crossing of the era's art/music and high/low divides, as Gendron documents, was in reality born of "aggressive struggles on the part of popular culture for cultural empowerment," and I argue that these struggles often sprang from the era's civil rights, feminist, and queer movements, which in the '70s sought new ways to reach broader audiences and to critique these movements' myopia or elitism. And, for many young artists, music became the medium to achieve these goals.
The "No Wave" culture that emerged in the late 70s from New York's Lower East Side is rife with examples. In this community, performers were as likely to present their work at the Danceteria as the Whitney Museum, and venues like Club 57, The Pyramid, and the Mudd Club and galleries like Fun, Gracie Mansion, and Artists Space all hosted both exhibitions and concerts, where popular music was emerging as its own radical genre of art. Years later, writer and Mudd Club habitué Kathy Acker would advise the young feminist art student Kathleen Hanna: "If you want people to hear what you're doing…you should be in a band." Hanna proceeded to become a prime mover in what soon became known as the Riot Grrrl movement by way of her band Bikini Kill, and continues performing agitational music in bands like Le Tigre and The Julie Ruin. Hanna's career is just the most visible of subsequent generations of activist artists inspired by popular music, which this book will track from the late '70s through present.
I plan to focus on the work of New York's No Wave and its European counterparts, art/music hybrids like Basquiat, DISBAND, Ann Magnuson, David Wojnarowicz, and Linder Sterling, who took inspiration from as well as critiqued the activist movements that preceded them; African-American artists such as Xaviera Simmons and Rashaad Newsome, engaging funk, soul, and hip-hop; performers like Peaches, Mykki Blanco, and the LTTR collective, who use dance music and fashion as springboards for queer, feminist critique; Chicano/a artists like Juan Capistran and Shizu Saldamando (top left), who explore the political dimensions of punk; and others who use music as a seductive, artistic form of what LTTR co-founder Emily Roysdon has called "ecstatic resistance."
In the process, I hope to argue for the pertinence of music writers such as Lester Bangs, Ellen Willis, and Greil Marcus for art historians. These writers' deeply personal, often embodied approach to music criticism claims a kind of kinship with the artists they write about—an approach that art historians disdain. I will analyze and critique this tendency as reflective of the persistent problems with class and pleasure from which the field of art history suffers, and propose the need for a scholarly voice in my field that admits (and risks) collusion with the artists we study.