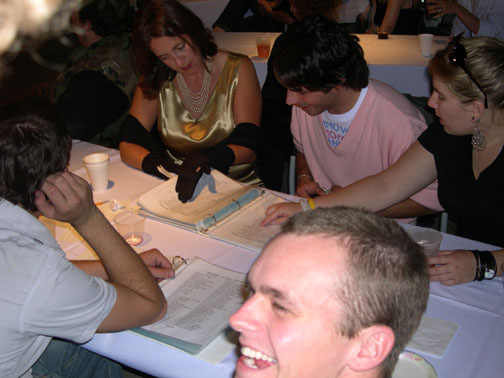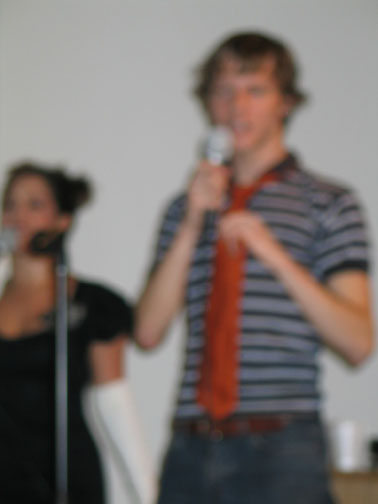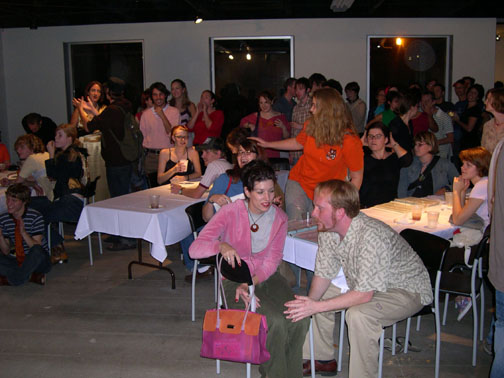 duets: can you feel the love?*
an interactive performance 9/17/04
There is something about most faculty exhibitions that irritates me. This, perhaps, is linked to the weepy thrall in which I tend to hold student exhibitions. Student exhibitions, it seems to me, generally get it right: art students are presented with the opportunity to assert themselves as the inevitable future, demonstrating that their work exists—indeed, may thrive—outside of the stifling air of the classroom critique. Kansas City Art Institute students in particular seem to seize this opportunity, confidently exhibiting in and even curating exhibitions that serve as palpable reminders to faculty that these are not just our successors but our colleagues, often resulting in an electric atmosphere where student ambition and faculty pride fairly crackle in mutual recognition.
Why, then, are faculty exhibitions such dull affairs by comparison? I personally believe that it is because—unlike our students, who leap upon the opportunity to demonstrate the professionalism that is part of their studies—professionals so infrequently think to use this opportunity to address their role as students. The best teachers are always students—but few care to admit (or, rather, exhibit) this fact. This is a shame, considering it has always seemed to me that faculty exhibitions offer artists who teach the rare opportunity to present themselves as perpetual learners, not just affecting but affected by their students. Instead, there is a concerted effort to state the obvious: I am professor—Exemplar.
In the months that my cohort has put into the planning of New, Two at the H&R Block Artspace, I tried to formulate a piece in which I might contribute something to the exhibition that reflected the ways in which I feel that KCAI's new faculty is not only energized but educated by the student body. From day to day we and our students perform a kind of duet in which experience, ideas, and criticism are exchanged—with exuberance and great humor—and none are ashamed to display either capability or vulnerability. Duets is my feeble, ridiculous attempt to represent this rich exchange that I have experienced in our classrooms and on our campus, which I carry into my own work just as my students do into theirs. Can you feel the love tonight?
-Maria Elena Buszek, September 2004

*photos courtesy of drew bolton, megan mantia, and brendan meara
[all additional documentation welcome: please e-mail to mbuszek@kcai.edu]