maria elena buszek :
From Contemporary Artists. 5 ed. Detroit: St. James Press, 2001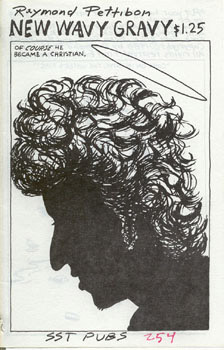 Raymond (Ginn) Pettibon (b. 1957, Tuscon, AZ)
Addressing the work of Raymond Pettibon, musician and writer Kim Gordon asserted the relevance of Los Angeles culture in the artist's cryptic, cartoon-frame drawings of modern American life when she wrote: "L.A.'s lush landscaping only begins to make sense when you realize that underneath it is a desert." Raised in Hermosa Beach, where he continues to live, Pettibon has made a career of his near-obsessive mining of that desert—and both the treasures and garbage buried there—in the thousands of ink wash, graphite, and watercolor drawings he has produced since the late 1970s. Gordon's astute, early observation of this tendency in Pettibon's work is interesting considering it was not the gallery world but punk culture from which both emerged; indeed, Pettibon's work first came to national attention through his album covers and flyers for Gordon's band Sonic Youth as well as his older brother Greg Ginn's outfit, Black Flag. His drawings combine imagery culled from popular photography, video stills, cartoons, and comics with original and appropriated text applied to the image in the sometimes direct, often random fashion that earlier Southern California artists Alexis Smith and Ed Ruscha utilized a generation earlier. But in the same way that Ginn's purposely flubbed guitar solos on Black Flag's albums mocked the mastery of '70s rock, Pettibon's poor draftsmanship and sloppy technique reflects an antiheroic, nihilistic punk ethic that distinguishes his work from these earlier Pop-inspired artists.
Some works operate in the conventionally, irreverently critical fashion of influences like Francisco Goya and Honore Daumier, mocking the heroes and hypocrisy of American culture. Like both artists, he has also explored the power of popular media, but through the postmodern era's new print forms: photocopied fanzines and comics. Although popular and political figures often appear in his satirical drawings, Pettibon's most bilious critiques tend to be reserved for the counterculture, as its participants attempt to conform to the same media images that the movements themselves allegedly disdain. Charlie Manson is frequently conjured as representative of California's self-congratulatory hippie movement's dark side; a grinning postwar blonde toasts an unseen artist with the exclamation, "With a loft like this, you can paint masterpieces;" and young Bob Dylan's famous profile from the Don't Look Back movie poster is recreated with a halo and the churlish revelation, "Of course he became a Christian."
Since the early '90s his work has become increasingly abstract, as well as more cryptic, with the texts applied in a random or personally relevant fashion that reveal an introspective, Romantic side to Pettibon often overshadowed by the biting satire of his earlier work. His vernacular images—such as the recurring appearances of cartoon character Gumby and Felix the Cat sidekick Vavoom, steam engine trains and anonymous baseball players—are frequently paired with reflective but seemingly unconnected snippets of prose from the likes of Marcel Proust, John Ruskin, or Francis Bacon. A recent series of phallus drawings—compiled in book form by the University of Chicago's Renaissance Society—represents nothing more than penis profiles with sometimes comical, sometimes poignant comments that generally relate to the myth of authority's masculine nature. (Perhaps the most memorable phalli include a quartet simply labeled "The Beatles," and a quintet under the statement, "We share a wide community of belief.") In another work, a gesturally rendered hypodermic syringe is topped with text that muses: "For it has a soul, I think." Such cryptic works are simultaneously jarring and inviting, in that these curious juxtapositions beg close scrutiny of the works and, by extension, the artist's communicative process.
The artist's processes of thought and expression—baffling as they can be—are precisely what is on view when viewing Pettibon's works in the way they were intended: in fanzines, journal-style books, or exhibited floor-to-ceiling, often pinned directly to the wall, in a snowballing barrage of stimuli. Critic Ralph Rugoff summarized the cumulative effect of Pettibon's 'zine, book, and exhibition projects when he wrote: "As if mimicking the ceaseless maelstrom of our mass-media landscape, these shows engulf you in a whirlpool of words and images . . . surfing across a seemingly haphazard cross section of cultural history." Pettibon himself has asserted that this effect reflects the notion that "modern sensibility is a product of multiple personality and fractured personality," reflected in the fragmented, stream-of-consciousness style of both his image/text combinations and exhibitions. Through these curious juxtapositions and the labyrinth of meanings that they evoke, Pettibon's work articulates the relevance of his popular icons and objects in our collective memory as well as their potential to transcend their homely, temporal, or trivial origins.